WEBSITE UNDER CONSTRUCTION ~~ Please call 765-654-6195 for assistance
STOELLER AUTOMATION, INC.
Full-Service Systems Integrator ~ Robotics ~ Custom Automation ~ Quality Control ~ Data Acquisition
Why Industrial Manufacturers Use Our Services:
To Improve Operator Safety
Ensure Quality Control
Increase Productivity
Provide Traceability for the Manufacturing Process
Reduce Cost
Provide Repeatable and Controlled Assembly Processes
Stoeller Automation has been an industry leader in customer support and cutting edge performance for over 25 years.  Our mission is to strive for a superior level of quality in all the systems and services provided to our customers.
Robotic Automation
Design & Customize Machines
We design, quote, build, and program new systems and machines for customer specific tasks.  We also consult, repair, and modify existing systems and processes for each unique customer requirement.
Custom Programming
 Support Services
Our systems engineers can develop a custom program for your application.  We have the capabilities to update existing PLC systems, Operator Interface, or HMI programs.
Thermal and Vision Systems
COVID-19 Screening Tool & Vision Services
Custom vision systems and a non-invasive, touch-less camera system to check each persons temperature and record the data.  Screens for elevated temperature with a safe social distance and uses less PPE.
Data Acquistion & Barcoding
Traceability
Experience and knowledge regarding various data acquisition networks and systems to fit your communication and tracking requirements.  WonderWare.... Ignition.... and more...
Controls
 Motion & Hydraulic Controls
We can build and integrate a customized system from the ground up.  Allen Bradley.... Mitsubishi.... Siemens.... Omron.... Automation Direct.... Yokogawa.... Modicon.... Delta RMC Motion Controller
Specialty Software
Runtime Show Management System
We have developed Barrel Racing and other Equine Speed Event Show Systems.  The software tracks the time each horse completed their run and displays placings for each division, in real-time, during the class.  Reports can be generated from the data.
Featured Project



Thermal Temperature Scanner
Monday - Friday  8:00 am - 4:30 pm  EST
2 McKinley Ave.
Frankfort, IN  46041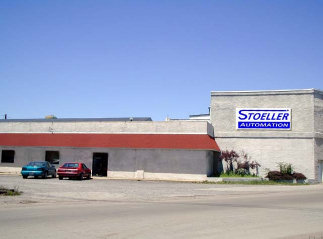 Dennis Miller
Engineering & Systems Developer
DMILLER@STOELLER.COM
Lisa Miller
Office Manager
LMILLER@STOELLER.COM